Rock Salt Benefits :
The nutritional value of the rock salt is so high that they have different effects on different parts of the human body. For your convenience we have broken the benefits of rock salt down into the categories of health, skin and hair!
As pointed out earlier, rock salt is the purest form of salt which is devoid of environmental pollutants and chemical components. It contains 84 out of the 92 trace elements required by the body including calcium, iron, zinc, potassium, magnesium, copper and so on. Thus, it is available in drug stores and pharmacies in the form of powder, pill supplement or even as a liquid extract in health beverages. Some of its health benefits are as follows.
It aids in digestion and is prescribed for laxative and digestive disorders. It improves appetite, removes gas and soothes heartburn.
It facilitates the cellular absorption of minerals. It plays an important role in replenishing the body's electrolytes and maintaining the pH balance. By stimulating blood circulation and mineral balance it removes toxic minerals and refined salt deposits.
It stabilizes blood pressure by maintaining a balance of high and low blood pressures.
It aids in weight loss by equalizing minerals which inhibit cravings and eliminate fat dead cells.
Rock salt is used as a home remedy for curing many disorders and ailments such as rheumatic pain and herpes, inflammation and irritation from insect bites.
Consumption of rock salt along with lemon juice can help in eliminating stomach worms and controlling vomiting. It also provides relief against influenza.
It is beneficial for people suffering from respiratory problems and sinus. Gargling with rock salt helps relieves throat pain, throat swelling, dry cough and tonsils. Rock salt is dissolved in water to prepare brine which is used in facial steams for patients suffering from asthma, bronchitis or other nose and ear discomforts.
Having brine made with rock salt with a glass of spring water can provide relief in case of arthritis, rheumatism, kidney and bladder stones. Poultice made from this brine can be used to treat wounds, acne or pain due to gout or arthritis.
What is the difference between sea salt and rock salt?
Sea salt is made by drying out sea water. So, the cheap rock salt sold in markets comes from the underground salt mines. The more expensive sea salt that we find in gourmet shops comes from the sea. Chemically, there's not much difference as they are both more than 99% sodium chloride.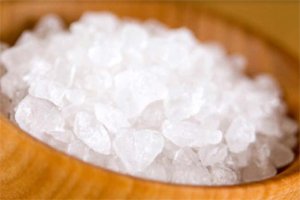 Rock salt can be used as a teeth whitener or mouth freshener. Gargling with rock salt provides relief against sore throat.
It can be used as a bath or body salt. You can mix a table spoon of rock salt in your bath water to have a relaxing bath. Bathing in rock salt water combats water retention, soothes sore muscles, regulates sleep, detoxifies your body and lowers your blood pressure. It also eases stress and body pains.
One of the most amazing benefits of rock salt is that it overcomes muscle cramps. Those experiencing muscle cramps can mix a spoon of rock salt in water and sip it to get relief within a few minutes.
By providing all the essential trace elements, it greatly improves the immune system. It also improves the respiratory, circulatory and nervous systems to a significant extent.
It helps in maintaining the flow of salivary and digestive juices. You can add a pinch of rock salt with few shredded mint leaves to your lassi to make a refreshing beverage.
Rock salt can be stored in a copper vessel till it becomes red.
It strengthens the bones and connective tissue.
Let's take a look at how some other salts affect our skin, hair, and health.
Rock Salt: Skin Benefits
Apart from its numerous health benefits, there are also many rock salt uses for your skin in many ways, thanks to its cleansing and detoxifying properties. Some of its benefits for skin are as follows.
Accumulation of dead skin cells is responsible for causing a rough, dull and aged appearance of your skin. Rock salt exfoliates the dead skin cells and protects the natural layer of your skin, thus resulting in a youthful and glowing skin.
It also strengthens the skin tissue to rejuvenate your skin, thus making it look younger and firm.  Massaging your skin with a salt scrub exfoliates and refines your skin, leaving it clean and refreshed and eliminating dead skin cells that cause your skin to look dull.
Being rich in minerals, rock salt can be used as a body scrub as a perfect substitute of spa standard products made at home.
It has excellent cleansing properties. The salt grains can cleanse your skin pores better than any soap or cleanser and makes your skin breathe easily. You can mix a table spoon of rock salt with your cleanser or face wash and rub your face with it for a glowing skin.
Soaking your body in rock salt water enables the minerals and nutrients in the salt to be delivered to your cells in the form of ions to facilitate their absorption by your body. This causes an improvement in the appearance of your skin by increasing circulation.
Since it does not have a drying effect on the skin, it can be used as foot soak, foot scrub or a hand scrub.
Rock salt is effective in removing yellowness under your nails, thus making them shine beautifully.
Rock salt mixed with the juices of lemon and ginger when taken in the morning and evening on a daily basis can help in curing skin enlargement.
Rock Salt: Hair Benefits
Though it might appear unlikely, rock salt can actually be beneficial for your hair in many ways. Due to its cleansing and exfoliating properties, it is often used as an ingredient in shampoos and hair treatments. Some of its benefits for hair are given below:
Due to its excellent cleansing properties, rock salt helps in removing dead skin cells and dirt from your hair without stripping off its natural healthy oil. All you need to do is mix salt in your shampoo. Wash your hair with this mixture and rinse with cold water to remove the residue. Make sure not to do the usual lather.
You can mix equal parts of your conditioner and rock salt and apply it on your hair. Wash off after 20-30 minutes. This will add volume to your hair.