Stinglessbee honey is considered medicinal because it collects nectar and pollen from small wild growing plants and trees, it is difficult for bigger bees to get inside smaller flowers. Stingless bees largely feed on coco palm, banana, guava, papaya, mango, tamarind, thumbapoo, touch-me-not plant(thottavadi), jackfruit tree, Tulsi (Holy Basil), Communist pacha,kulir mavu, teak for honey, pollen and resin.
Lack of sleep /anxiety – can be treated by drinking a glass of water that has a spoon of stingless bee honey dissolved in it (honey drink). drinking water with honey has a very calming impact on people.Stingless bees largely feed on coco palm, banana, guava, papaya, mango, tamarind, thumbapoo,  touch-me-not plant(thottavadi), jackfruit tree, Tulsi (Holy Basil), Communist pacha,kulir mavu, teak forhoney, pollen and resin.
Stingless bee honey is a precious bee product of the stingless bee. Stingless bee honey is different from that produced by the bees of the genus Apis (i.e., the honey bee) in terms of its color, taste and viscosity ( Almeida-Muradian et al., 2014 ,  Guerrini et al., 2009 ). This valuable bee product has traditionally been consumed directly and used in numerous medical practices: both traditional methods, in which honey is harvested directly from the forest, and in the more well-established meliponary ( Souza et al., 2006 ). The honey comb of sting bee honey and honey pot of stingless bee honey are represented in  Fig. 1 . The aim of this review is to summarize information on the traditional and clinical uses of honey bee and stingless bee honey to augment various biological activities and to treat diseases.
Chemical constituents of honey bee and stingless bee honey
Honey contains approximately 200 compounds, such as vitamins, enzymes, amino acids and minerals, with the major content being water and sugars. Sugars comprise approximately 95–99% of honey's dry matter. Of the sugars in honey, fructose is the most prevalent, comprising approximately 32–38% of its total sugar. In addition to fructose and glucose, several other disaccharides and oligosaccharides, including sucrose, maltose, maltotriose and panose, can be found. Organic acids, minerals and trace elements such as calcium, potassium, sodium, magnesium, phosphorus, sulphur, iron, zinc, copper and manganese are other components present.
In addition, various vitamins, including ascorbic acid (Vitamin C), thiamine (Vitamin B1), pantothenic acid (Vitamin B5), riboflavin (Vitamin B2), nicotinic acid (Vitamin B3), pyridoxine (Vitamin B6), biotin (Vitamin B8), folic acid (Vitamin B9) and cyanocobalamin (Vitamin B12), are present ( Ciulu et al., 2011 ). Enzymes and proteins are minor constituents, with the enzymes playing a vital role in various activities, including antimicrobial activity and facilitating calcium absorption ( Ariefdjohan et al., 2008 ). Many studies have reported ( Can et al., 2015 ,  Escriche et al., 2014 ,  Flores et al., 2015 ,  Habib et al., 2014 ) that the antioxidant capacity of honey is dependent not only on the presence of total phenolic compounds but also on the presence of flavonoids, which play an important role in ameliorating oxidative stress. Interglycosidic linkages in O-glycosil flavones from Tetragonula carbonaria have previously been detected by high-performance liquid chromatography/photodiode-array ( Truchado et al., 2015 ).
A variety of flavonoids and terpenoids have been reported in various honeys. In manuka honey, pinocembrin (1), chrysin (2), pinobanksin (3), 8-methoxykaempferol (4), luteolin (5), isorhamnetin (6), galangin (7), kaempferol, sakuranetin (8), quercetin and magniferolic acid (9) and 3β-hydroxy-24-methylenecycloartan-26-oic acid (10) have been identified (Ahmed and Othman, 2013). The various physicochemical properties of honey bee and stingless bee
Physico-chemical properties

TH
(Erejuwa et al., 2010 )

MH
(Stephens et al., 2010 )

Stingless bee honey
(Souza et al., 2006)

IHC guideline
(Bogdanov et al., 1999 )

Appearance

Dark brown

Light-dark brown

Amber brown

Colorless to dark brown

Moisture content

23.30% (Ahmed and Othman, 2013)

18.70%

25.02

<20.00

pH

3.55–4.00

3.20–4.20

3.05–4.55

3.40–6.00

Total reducing sugars

67.50%

76.00%

55.00–86.00%

>60.00

Glucose

30.00%

36.20%

8.20–30.98

23.00–32.00

Fructose

29.60%

40.00%

31.11–40.20

31.20–42.40

Sucrose

0.60%

2.80%

0.31–1.26%

0.00–2.80

Maltose

7.90%

1.20%

NA

NA

Calcium

0.18%

1.00%

NA

NA

Potassium

0.51%

1.00%

NA

NA

Sodium

0.26%

0.0008%

NA

NA

Magnesium

0.11%

1.00%

NA

NA

Specific gravity

1.34

1.39

NA

NA

Electrical conductivity (mS/cm)

0.75–1.37

0.53

0.49–8.77

0.80–4.40

HMF (mg/kg)

46.17

40.00

8.80–69.00

<80

Ash content (g/100 g)

0.19

0.03

0.01–0.12

<0.6
TH, Tualang honey; MH, Manuka honey; HMF, hydroxylmethylfufural; IHC, International Honey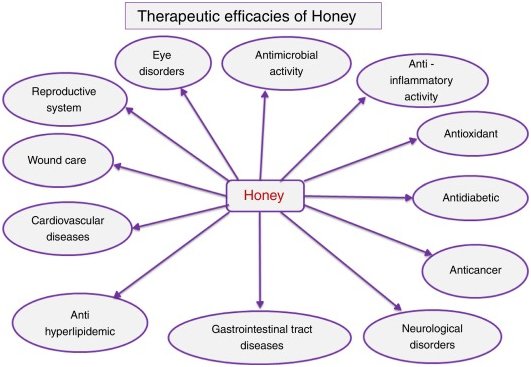 What's the reason behind the medicinal qualities of stingless bee honey or Cheruthen?
Medicinal qualities of stingless bee honey or 'Cheruthen' is mentioned in Ayurvedic tests and other medical journals. This honey variety can be administered to small children for treating mild fever. Since it has antibacterial properties, stingless bee honey can be used against various infections.
The flowers of many of those antibacterial and anti-fungal medicinal shrubs and herbs are very small. Normal honey bees are much bigger and are not cut out to take away the nectar and pollen from these flowers. Bigger bees are mostly circulated in fruit orchards, where all sorts of chemicals and hormones are used for production. But the small size of stingless bees enables them to feed on these medicinal flowers, thereby increases the medicinal value of their honey
Why small honey or cheruthen is twice nutritious than ordinary honey or van then?
Honey from stingless bees is known for its nutritional value. It is twice as nutritious as ordinary honey. The honey production is much less when compared to ordinary honey. Normal honey bees can produce up to 40 times more honey than stingless bees. The average honey production by a stingless bee colony is about 350 grams to 1kg of honey in a year. This makes the honey from stingless bees more expensive and rare.
Stingless bee honey is considered medicinal because it collects nectar and pollen from small wild growing plants and trees, it is difficult for bigger bees to get inside smaller flowers. Stingless bees largely feed on coco palm, banana, guava, papaya, mango, tamarind, thumbapoo, touch-me-not plant (thottavadi), jackfruit tree, Tulsi (Holy Basil), Communist pacha,kulir mavu, teak for honey, pollen and resin